Madhu's Kidney Care
A Kidney Hospital in Coimbatore has the leading Kidney Specialist in the town, skilled at interpreting laboratory tests, including blood and urine tests, to assess kidney function and diagnose any abnormalities. The hospital is located near the city's prime location, enabling you(people) to have easy access to Kidney Treatment in Coimbatore.
A Nephrologist, a kidney specialist, specialises in diagnosing, treating, and managing kidney-related diseases and conditions. Nephrologists are experts in providing treatment for patients with kidney problems. Kidney Specialists at Healthy Kidneys are proficient in treating people with acute and chronic kidney diseases, kidney failure, kidney transplantation, and various disorders affecting the kidneys. Dr. Madhu Shankar Gunasekaran, the Nephrologist in Coimbatore, has excellence in treating severe conditions of kidney disorders and provides the best treatment to the people located near RS Puram and across the city.
View More
Treatments
The kidney is an essential organ and delivers vital functions for maintaining good health. The disorder or any form of illness in the kidney costs good health. The primary function of the kidney is to filter waste from the blood and discharge it from the body. The change in functionality collapses the entire body's health condition. Chronic Kidney Disease is a prevalent illness that most people contract. The Kidney Treatment depends on the affection, symptoms experienced, and disease progression. High blood pressure and diabetes are the leading causes and accelerators of disorders. Nausea, vomiting, loss of appetite, fatigue and weakness, frequent urinating, and swelling of the feet and ankles are the most common symptoms of Kidney Disease.
Early diagnosis and treatment aid in reversible health conditions. Healthy Kidneys is a Kidney Hospital in Coimbatore incorporated with a solid team of experts to provide the Best treatment for Kidneys. The efficacy of the procedure depends on the precision of the diagnosis and treatment. Our hospital has advanced equipment to diagnose the prevailing condition. Our Kidney Specialist has vast experience determining the root cause and disorder progression stage to provide the best treatment. Kidney failure, kidney biopsy, kidney stone, diabetic kidney disease, kidney transplantation, dialysis, urinary tract infection, and swelling feet or body are provided at our Kidney Disease Treatment Center in Coimbatore. People with diabetes are highly prone to contracting disorders. Our nephrologist takes special care throughout the journey for people undertaking treatment for Diabetic Kidney Disease.
Read More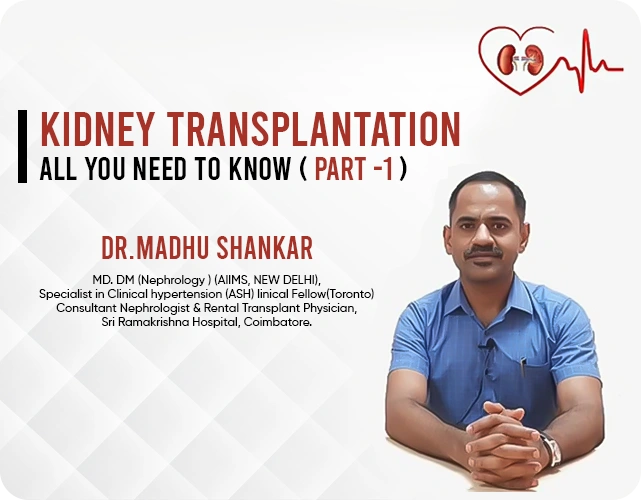 Media
Knowing better helps in healing better. Please listen to the insights about kidney disorders, causes, symptoms, treatment options, and proper diet shared by Dr. Madhu Shankar Gunasekaran, a Kidney Specialist at Madhu's Kidney Care.
Kidney Dialysis
Kidney Transplantation
Kidney Biopsy
Healthy Kidneys has nephrology care facilities to perform kidney disorder diagnostic procedures. Our hospital has treated many people with intense diseases ranging from mild to severe conditions and provides holistic Kidney Treatment. Our Nephrologist is highly skilled in prescribing efficient medication for kidney disease associated with other illnesses. We hold a vast base of happy patients and patient satisfaction, which we achieved with unparalleled services. We eliminated the people's primary concern of waiting in queues for Kidney Specialist Consultation at our hospital by enabling Online Appointment Booking For Kidney Treatment in Coimbatore.