Dr. Madhu Shankar
Gunasekaran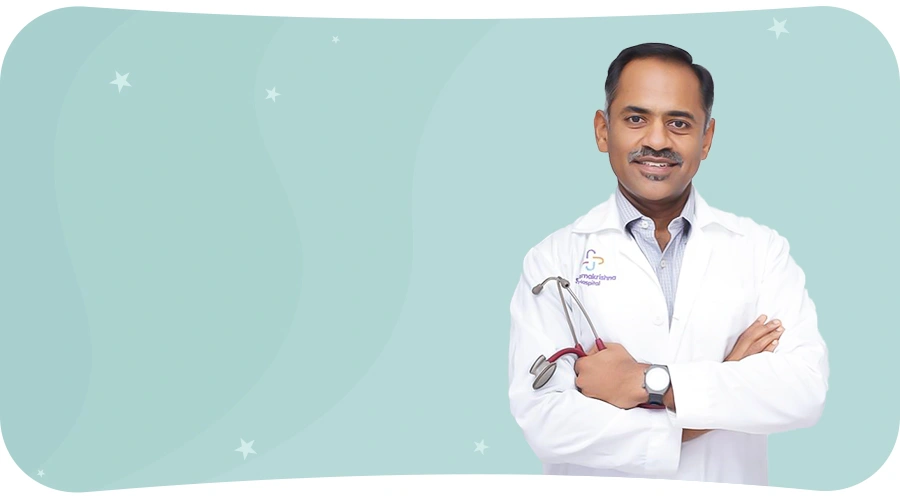 The Doctor
Dr. Madhu Shankar, a native of Erode, joined MBBS at the Government Stanley Medical College, Chennai in 2000 and passed out meritoriously in 2006. He was a student at the SMART group conceived by the Gastroenterology department during his UG days. He did his post-graduation in Medicine between 2007 – 2010 at Govt Stanley Medical College when he was awarded 3 Gold medals for proficiency in Nephrology, Gastroenterology, and Medicine. He worked as Senior resident in the dept of Nephrology at SGPGI – Lucknow for 6 months and was selected for Nephrology at the prestigious All India Institute of Medical Sciences, New Delhi between 2011 to 2014. He underwent rigorous training in Nephrology, involved in research & teaching there.
He was exposed to the Western health care system in Toronto as a Clinical Fellow in Nephrology between 2015-16. In Toronto he had the chance to work with worlds best clinicians & researchers, had a stint at one of the world's largest multi-organ transplant centre, TGH. He was involved in clinical & research activities there. He was awarded the specialist in clinical Hypertension by the American Society of Hypertension in 2016.
Working at Sri Ramakrishna Hospital as Consultant Nephrologist since 2016, he has a special interest in Renal transplantation, Hypertension including secondary & resistant hypertension, Renal disorders in Pregnancy, Acid-Base & Electrolyte disorders, Acute renal diseases.
Also an athlete, long distance runner, he has the distinction of the only Doctor in Tamilnadu having run on all seven continents in the world including Antartica. He has set his goal in completing all 6 Major marathons in the near future.
"Primum nonnocre".
Meet the Doctor
Dr. Madhu Shankar Gunasekaran
Consultant Nephrologist, Renal transplant physician and hypertension specialist
MBBS (Govt. Stanley Medical College) MD Medicine (Govt. Stanley Medical College) DM Nephrology (AIIMS, NEW DELHI), Clinical Fellow(Toronto)