Dialysis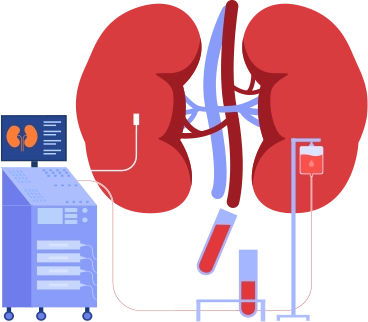 The function of the kidneys is to remove waste products from the blood and maintain adequate water balance in the body.
People with severe disorders significantly rely on dialysis to initiate artificial functioning when progressing to critical conditions. Dialysis is a Kidney Failure Treatment in which blood is purified and waste products and excess water are removed with the help of a machine. Our hospital has the latest equipment to provide the best treatment for Kidney Dialysis in Coimbatore. Hemodialysis and Peritoneal dialysis are the most commonly recommended medical methods for treating kidney failure.
Hemodialysis is done in a hospital setting; blood is circulated through a machine with a filter, and purified blood is circulated back to the body. At our Hemodialysis Center, a typical Kidney Dialysis session lasts 4 hours, and usually 3 sessions per week are prescribed by our kidney specialist. The hemodialysis procedure is performed through an AV fistula (minor surgery in the arm) or a tunnelled catheter (in the neck). People choosing this Kidney Treatment have to pay a visit to the hospital.
Peritoneal dialysis is a treatment procedure performed by inserting a catheter into the abdomen, and exchanges are done. The procedure offers convenience to people, as the patient or caregiver can perform it at home. The choice of opting for Peritoneal dialysis requires a holistic environment to be set up. The necessity to visit the Dialysis Center is required unless for monthly follow-ups.
When the kidneys have lost the ability to remove excess water and waste products, dialysis becomes a life-saving procedure. In a few cases, when the kidney failure can be treated, dialysis is done for a short time, typically weeks. In cases of irreversible kidney failure, Dialysis Treatment is the only option left to stabilize and stop the progression of kidney disease, a very critical condition.
The advancement in the treatment procedure has broken the odds and myths revolving around people's minds, such as painful, difficult, and intolerable. Our Nephrology Specialist provides personalized care and dialysis treatment that improves the quality of people's lives. Kidney Failure Treatment is life-saving and has helped many patients recover.
In short, dialysis is life-saving & has helped many patients play a second innings in their life successfully.
Read More
Treatments
Meet the Doctor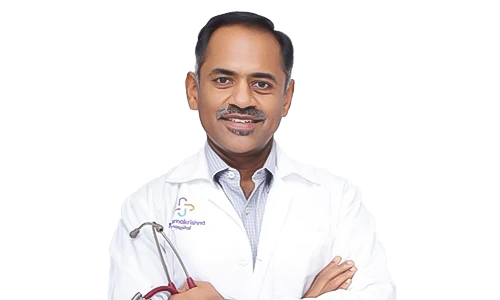 Dr. Madhu Shankar Gunasekaran
Consultant Nephrologist, Renal transplant physician and hypertension specialist