Kidney
Stones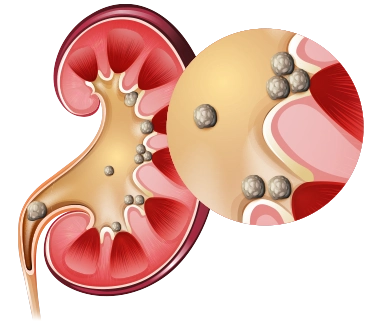 Kidney Stones, or nephrolithiasis, are a metabolic problem. Commonly seen in men around 50 years old, it has become more common in both genders and across all age groups.
Typically noticed in the summer months, stones can be multiple and bilateral. Stones are formed due to an imbalance between water and salt in the urine, leading to the precipitation of salts, which further leads to stones over a while.
Most of the time, renal stones do not produce symptoms and are noticed incidentally on routine ultrasound scans. Kidney Stones that move down the ureter produce excruciating pain that migrates to the front of the abdomen. During the passage, stones can get obstructed, leading to infection, renal failure, and other complications.
Kidney Stone Removal Surgery helps in removing the stone and managing complications, but medical evaluation is necessary to identify the urinary abnormalities and address them to prevent stone recurrence. Our Kidney Hospital in Coimbatore is equipped with advanced equipment to accurately diagnose the prevailing renal disease due to the development of stones. Care must be paid to stones at younger ages, bilateral, multiple stones, and recurrent stone formers.
Blood investigations, 24-hour urine analysis, and genetic analysis are the Kidney Stone Treatments performed in a few cases. Attention must be paid to salt intake, fluid intake, and the consumption of non-vegetarian foods.
A proper nephrological evaluation is needed to identify the cause and prevent future recurrences of stones. Our Nephrology Specialist in Coimbatore recommends Kidney Stone Laser Treatment as a surgical option to remove a stone or relieve an obstruction. Lifestyle modifications like reducing salt and non-veg consumption and increasing water intake help prevent stone recurrence.
Read More
Treatments
Meet the Doctor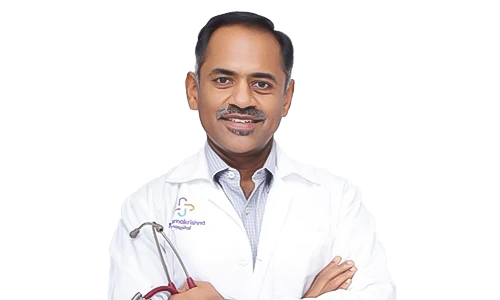 Dr. Madhu Shankar Gunasekaran
Consultant Nephrologist, Renal transplant physician and hypertension specialist